Vivo has launched its mid-range, flagship, and affordable smartphone in Nigeria. The Vivo V23e and V23 5G all of which feature 50MP AF cameras Supported by enhanced 44W FlashCharge and Extended RAM.
The Vivo V23 series which was unveiled in Lagos on Tuesday, February 15, 2022, served as an official introduction of the new smartphone products.
The new Vivo V23 5G features a 50MP AF Dual Camera on the front, with an additional 8MP Super Wide-Angle Camera that takes wide-angles up to 105-degrees delivering images with high clarity and selfie videos at even 4K resolution.
Vivo announced that the V23 5G also comes with a 64MP triple-camera, perfect for capturing ultra-clear photos in extreme darkness.
Vivo said that the most exclusive feature of V23 5G is the Sunshine Gold model's 'color-changing' exterior at the back panel that apparently shifts colors completely when exposed to sunlight. The phone will turn to blue-green when exposed to the sun for about thirty seconds before gradually returning back to the original gold and for now, will be available only on the Sunshine Gold variant of the phone
"Color-changing glass is a material that is present exclusively on the back panel of the Sunshine Gold edition of the Vivo V23 5G, which gradually changes its colors upon being exposed to ultraviolet light and returns to its original color after being away from a light source."
V23 5G also features powerful MediaTek Dimensity 920 SoC, 44W FlashCharge with the increased battery capacity of 4200mAh (TYP) that allows users to charge their phones from 0% to 68% in just 30 minutes and Extended RAM.
Also at the event, Vivo introduced V23e to feature a 50MP AF front camera, bringing outstanding clarity and steadiness to selfies with its enhanced Eye Autofocus and fun portrait features, where the Super Night Portrait feature defies darkness with the AI Extreme Night mode.
Vivo said that it has also improved the camera shooting experience through Steadiface Selfie Video, upgraded Dual-View Video, and Double Exposure mode.
Supported by enhanced 44W FlashCharge with the increased battery capacity of 4050mAh  (TYP) that allows users to charge their phones from 0% to 40% in just 15 minutes and achieve a full charge in an hour and Extended RAM.
Vivo's biggest focus is on its enhanced front camera performance. Powered by the ultra-clear 50MP AF Front Camera with a customized image sensor, as well as the enhanced processing capability enabled by the powerful MediaTek SoC, makes it possible for V23 5G to take 4K Selfie Video seamlessly.
Vivo claimed that the front cameras on the V23 5G support 4K at up to 60 fps video shooting, which allows users to have more flexibility when editing. It also supports AI Face Beauty mode when taking 4K selfie videos, allowing users to express themselves in high clarity.
Vivo also introduced "Notched displays," "punch-hole displays," and "waterdrop notch displays" among the most sophisticated as well as the most commonly used full-view display designs to help deliver an immersive full-view display experience for users.
The V23 5G harnesses the MediaTek Dimensity 920 with 8GB RAM and 128GB ROM to deliver smooth performance for apps and the operating system, and supports Dual-Mode 5G, consuming less power while delivering smoother and more powerful connection for mobile entertainment.
V23e harnesses the MediaTek G96 with 8GB RAM + 128GB ROM to deliver smooth performance for apps and the operating system. In addition, our Extended RAM 2.0 technology enables the phone to temporarily gain "+4GB" RAM by tapping idle memory, allowing users to run multiple apps at the same time without any issues.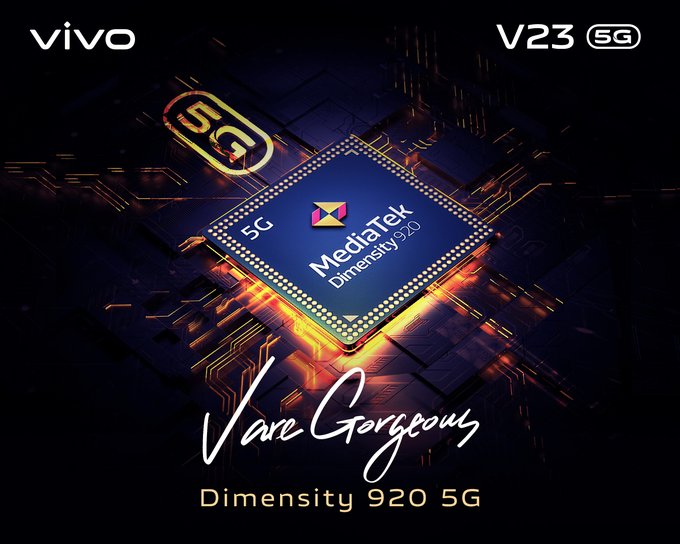 Both phones have extended memory that enables them to temporarily gain "+4GB" RAM by tapping idle memory, allowing users to run multiple apps at the same time without any issues